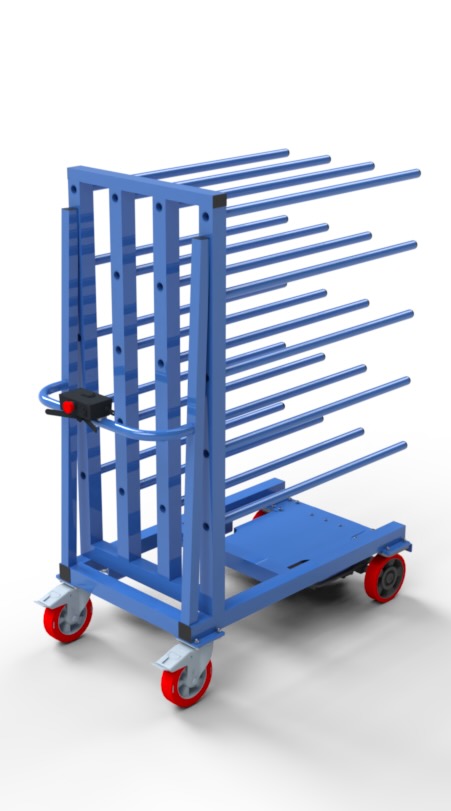 Roll transport trolley with & without drive
Revolution in the warehouse: Nepata's roll transport trolley sets new standards in logistics!
In the dynamic world of warehousing and logistics, advanced solutions are essential to stay competitive. Nepata's innovative roll transport trolley represents a prime example of process optimization in industries such as film trade, film production, signmaking, car wrapping and printing. Designed for the safe and efficient transport of roll media – especially films – this cart takes warehouse logistics to a new level.
Available in two variants – the robust standard version without drive and the powerful model with drive – this trolley meets the challenges of manual handling and transport of rolls. The roll transport cart simplifies the insertion of rolls on the mandrels and the simultaneous transport of several rolls considerably speeds up the picking process.
A key added value of this system is that it makes work easier, in particular by avoiding the need to carry heavy rolls. The result? A smoother, more efficient workflow that not only increases productivity, but also provides an improved work environment, characterized by reduced sick time.
Roll transport trolley without drive
The roll transport cart without drive is a valuable addition to any warehouse. Designed as a mobile storage solution, companies that do not have immense capacity can store rolls directly on the cart. This facilitates access and transport without the cart constantly being in the way. In addition, it is particularly practical in rooms where the use of drive systems is not ideal. It offers a simple but efficient solution to facilitate the work of warehouse staff and safely transport the rolls without the need for an external power source.
Roll transport trolley with drive
The roll transport cart with drive is a revolution in warehouse management. With its advanced drive technology, employees in the warehouse can move rolls effortlessly. This model is particularly suitable for larger warehouses or those with a high throughput rate of rolls. The integrated drive makes moving even heavy rolls around a breeze – even over ramps or inclines. This increases efficiency and significantly reduces the physical strain on employees. For companies looking for a powerful solution to optimize their warehouse processes, this is the ideal choice.

Increased efficiency in the picking process

Minimization of roll damage

Significant reduction in physical stress for employees

Mobile and space-saving for optimized storage

Reduction of occupational accidents

Faster workflows and increased productivity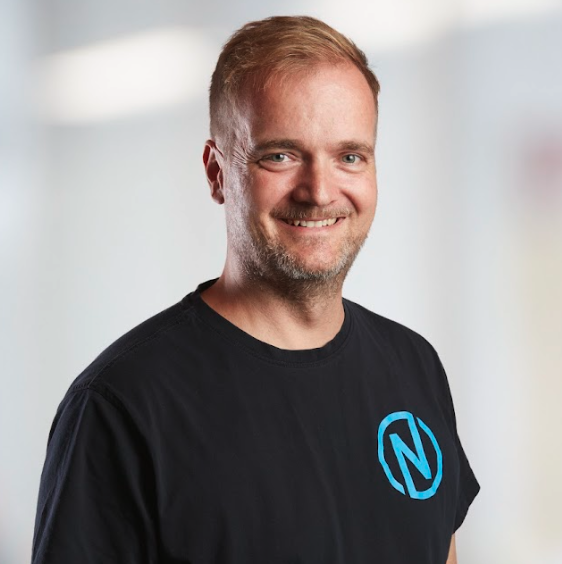 We will be happy to work out an individual offer for you!
Whether wrapping, cut-to-length or slitting machines, cut-off machines or roll storage systems – we are happy to adapt our products individually to your needs and workflows.
Contact us for a no-obligation consultation!
Dipl. Ing. Fabian Franke (CEO)
Standard with drive
Standard without drive
Length of mandrels
1.000mm
1.000mm
max. Roll weight per mandrel
25kg
25kg
Driving distance with full battery
Until 10km
Height of top mandrel
1.670mm
1.670mm
Height of lowest mandrel
632mm
632mm
Distance of mandrels horizontal
260mm
260mm
max. Roll width
1.600mm
1.600mm
max. Roller diameter
160mm
160mm
Diameter of mandrels
34mm
34mm
Sleeve diameter rolls
2", 3"
2", 3"
Dimensions LxWxH
1410mm x 750mm x 1750mm
1335mm x 750mm x 1750mm
video_repeat does not have any rows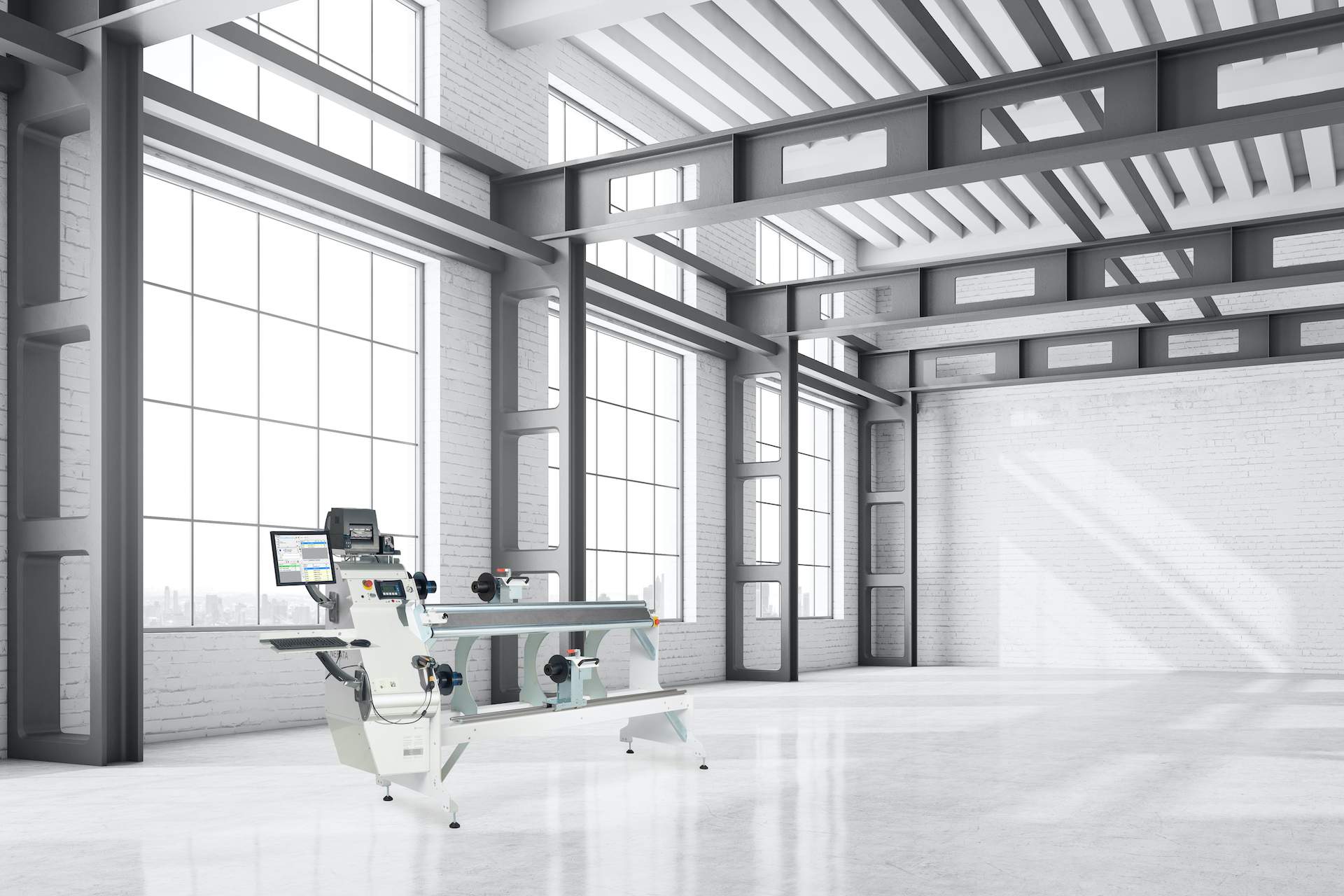 Materials that our
Machines can process
Self-adhesive films, sandblasting films
Masking films, car wrapping films
Magnetic foil, flex foils, flake foils
Sun protection films
Digital printing media, banners
Photographic papers
Papers, wallpapers Reflective self-adhesive films
Mesh
Further optimize the machines with accessories
In addition to excellent basic equipment, it is also possible at any time to adapt Nepata machines even better to the respective needs and workflows with suitable accessories! From lubrication systems, telescopic levers to tape dispensers – stop by our accessories!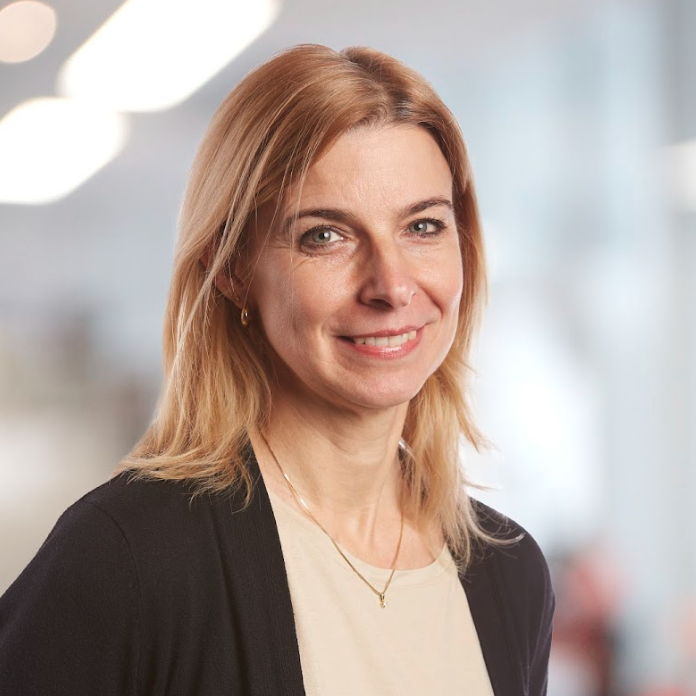 "Since development, production and sales are all under one roof, changes or customer requests can be implemented quickly and easily – if possible – thanks to the short distances.
Contact us today for a no-obligation informational consultation!"
Simone Zopik (Sales Manager)
These machines may also interest you: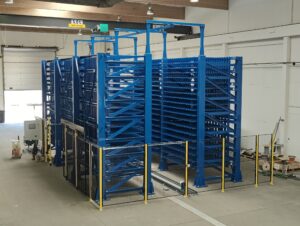 Worldwide establishment of the solutions of foil converting of Nepata for 10 years Optimal complement with our partner CH System – specialists in logistics automation with 50 years of experience
Close cooperation with our partner CH System for comprehensive service and regular maintenance Uncomplicated and fast remote maintenance Technician secondment
State of the art technology High quality components e.g. Siemens Simatic control and Siemens motors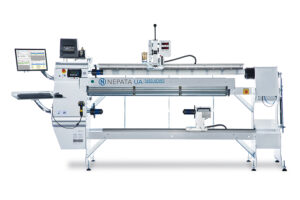 Wrapping speed at up to 1.5m/s
Wrapping up to 1650mm width, parting up to 1900mm width
Control via ConvertPlus2 software incl. Barcode labels for customer and stock rolls
Also check out our blog – this might interest you!
FILM LOGISTICS: High inflation – an argument to invest in automation now
In many industrialized countries, inflation is higher than it has been for decades – and […]
SLITTER-SERIES: #2 – Beware, sharp! Why the right grinding is so important
Actually a no-brainer: You need a sharp blade to cleanly cut off films and nonwovens […]