Your individual color swatch cards & fans
We offer complete solutions for the production of color swatch cards and color fans for film manufacturers and distributors in various industries. Our color card services include printing the cards, cutting the color strips and finally gluing the strips into the cards. With our automated, cost-effective and high-quality manufacturing process, we take care of all the steps so that our customers can concentrate on their core business. In addition, we offer the production of color fans, which can be used to compactly display a large number of foil materials. Our production site in Germany guarantees the highest quality and fast response times.
High quality, low price
through industrial production of color sample cards
NEPATA GmbH has developed a unique production process to produce color sample cards for self-adhesive media automatically, quickly, flexibly and, of course, particularly cost-effectively. Our customers are well-known manufacturers, distributors and dealers of self-adhesive films and similar articles who depend on color cards for sales support. Only with a color sample card can dealers, customers and consumers choose unerringly from the range of film products. However, the production of such color sample cards is complex and expensive.
This results in the dilemma of not being able to provide all customers with color cards.
because the cost of doing so would be too high. You are welcome to request a quote or more information from us for custom color card production.
Our novel and cost-effective production process enables our customers to distribute the color cards on a large scale to distributors, dealers and customers, or to enclose them in trade magazines, for example, or to distribute them to potential customers in large mailing campaigns. At the same time, our industrial production process guarantees the highest precision of the color cards as well as an extremely short delivery time.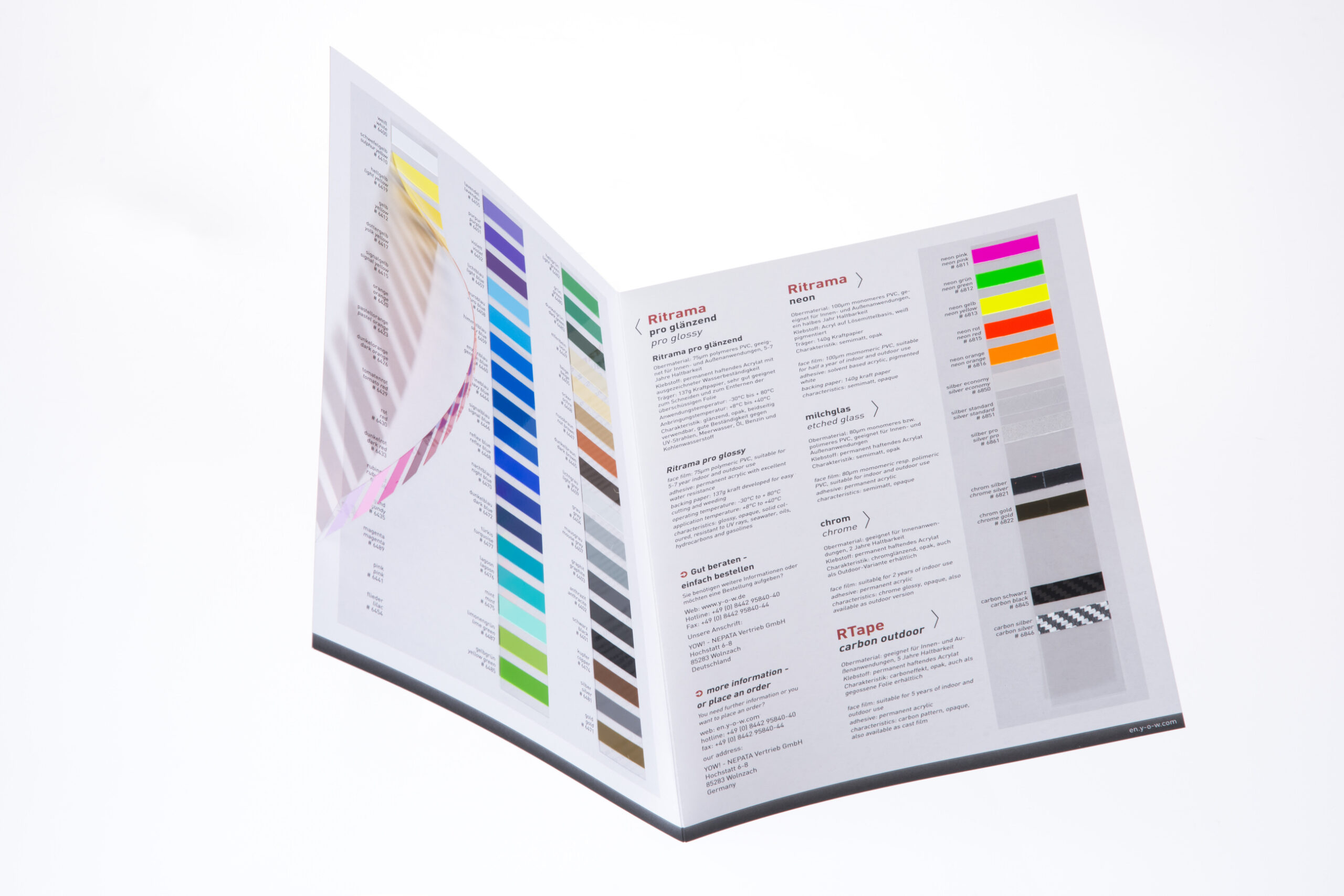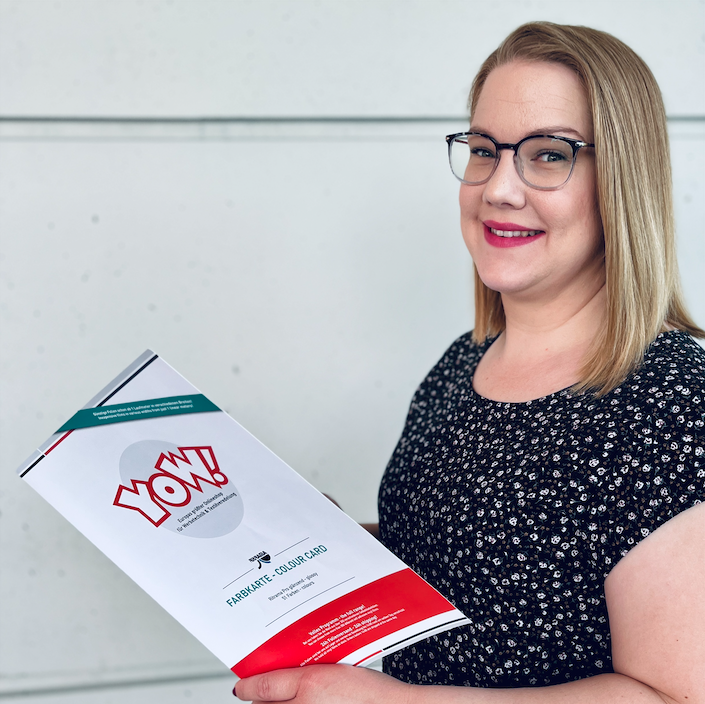 "Our YOW! customers are always thrilled when we can send them color cards of our range. The films cannot be displayed in the store in 100% true color – with the color cards, you can view the films extensively in room and daylight."
Stefanie Binder (Sales Manager www.y-o-w.com)
Color explosion compact:
Present your foil variety with our individual color fans!
The production of color fans is a practical and effective sales tool for film manufacturers and distributors in the fields of advertising technology, vehicle wrapping and textile finishing. Color fans offer the possibility to present a wide range of foil samples compactly and clearly. Compared to color cards, color fans allow a wider selection of samples and are particularly suitable for manufacturers with an extensive film portfolio or signmakers who cannot keep all materials in stock.
Until now, the production of color fans was complex, time-consuming and expensive. Thanks to our innovative production processes, we at Nepata can now also implement small and medium-sized orders quickly, flexibly and cost-effectively. As a German company, we attach great importance to the highest quality and fast response times. Our on-site production allows us to respond quickly and flexibly to our customers' needs while ensuring excellent quality.
With our color fans, film manufacturers and distributors can impress their customers and present them with a wide range of film samples. They can show their customers different colors, surface textures and textile films to help them choose the right product. Our color fans offer a compact and handy solution to present the entire range clearly.
In addition, our flexible production offers the possibility to customize the color fans and adapt them to the specific requirements of our customers. We can offer different formats, materials and finishes to ensure that the color fans meet our customers' individual brand guidelines and preferences.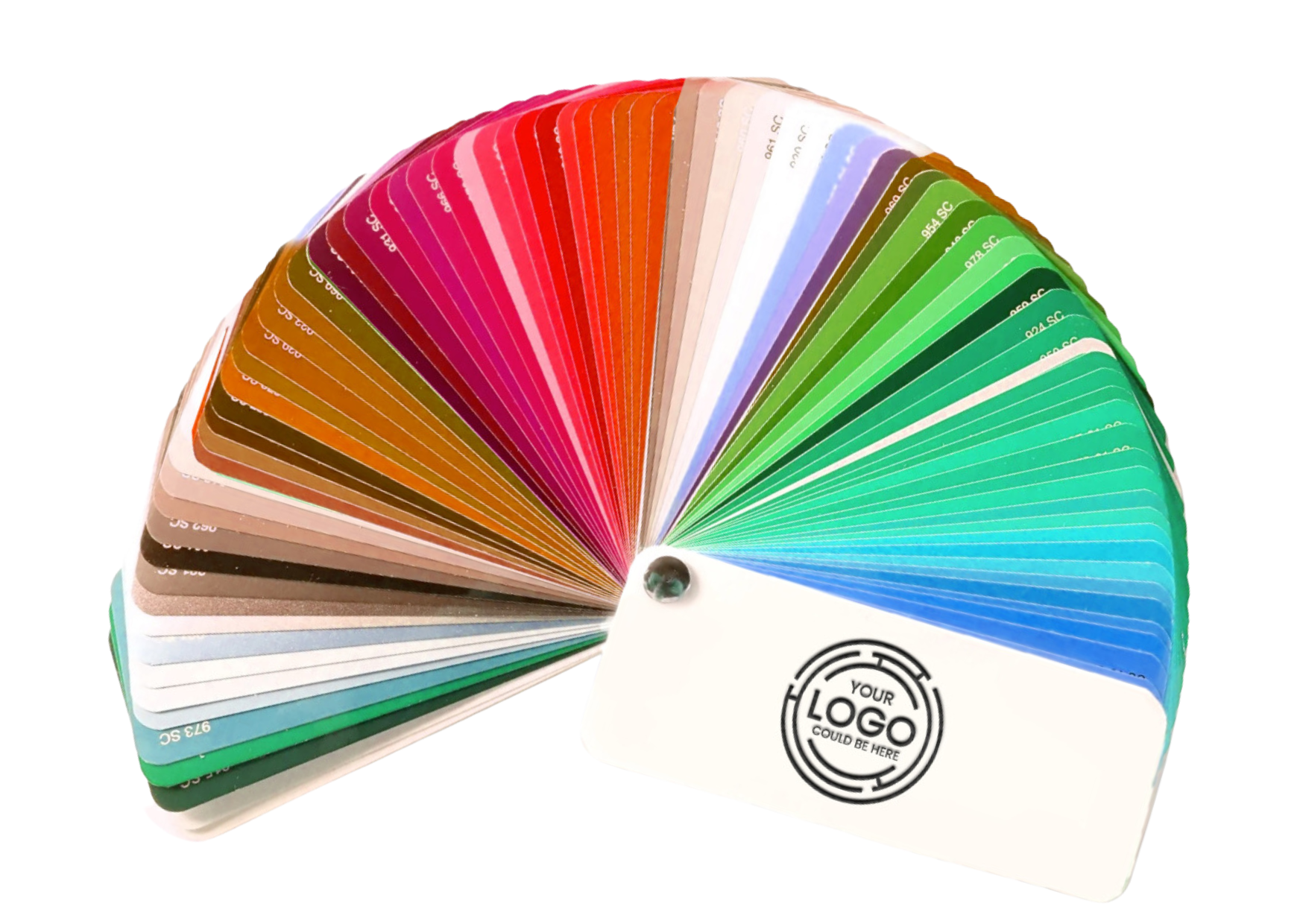 Your advantages
Through industrial production of color sample cards
Extremely high quantities possible
High production capacity and short production times
High precision of the color sample strips
Change of printed matter as well as color samples within one batch possible
"In terms of color guides and color cards, Nepata can be described as an "all-around worry-free supplier."
Thanks to the machinery at our disposal, we are able to produce high-quality color strips even with short running meters. If the customer needs a complete color chart, we can also realize it in the shortest possible time. And even the complex production of color fans is no problem for us thanks to the necessary machines and (wo)man power."
Josef Geier (Head of Production & Resource Planning)
Professional manufacturer of various film products?
Reduction of production costs based on previous production.
Significant expansion of production and thus the use of color cards as a marketing tool.
Greater flexibility in production with regard to languages and color pattern combinations.
Shorter lead times for marketing campaigns.
Dealers or service providers in the advertising technology industry?
Manufacturers and distributors can resell or pass on small to medium runs of color cards with custom artwork to their dealers and customers.
Low production costs if existing material can be used or the color sample cards can be integrated into an ongoing production for the distributor or manufacturer.
Distributor or wholesaler of the advertising technology industry?
Production of small and medium quantities from existing raw material of the manufacturer possible – On request, NEPATA GmbH takes over the coordination and warehousing for manufacturers and distributors.
Flexible production in terms of artwork and color swatches
Low production costs if existing material can be used
Responsible for the marketing department in the company?
Closing the supply gap for color swatch cards across the entire distribution chain
Distribution of color cards via magazines, customer mailings etc. possible
Multilingual versions easily possible
Increased sales through stronger presence with customers and prospects
Individual composition of color sample strips possible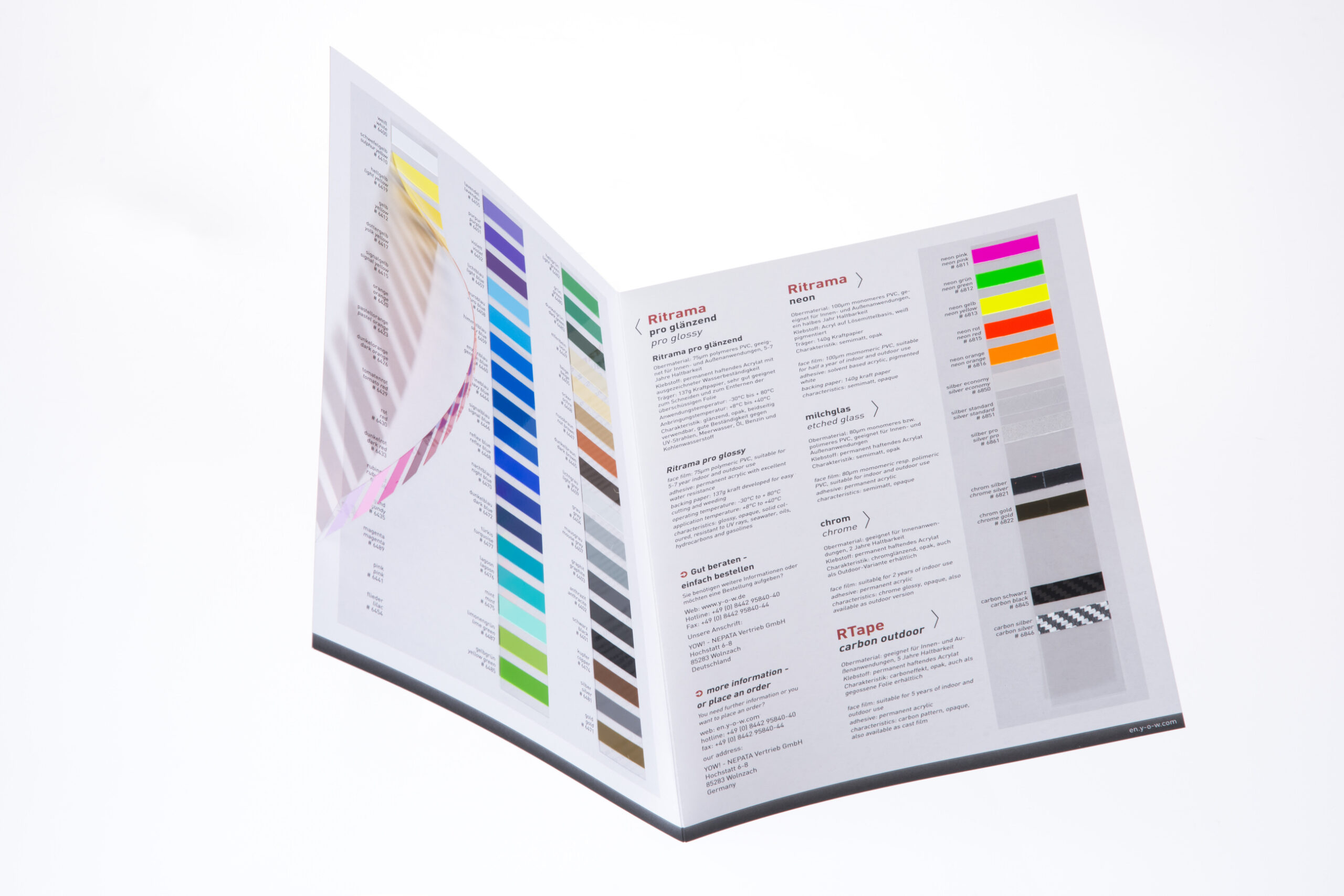 Fast, Flexible, Cost-effective
We process
Self-adhesive films, cutting films, plotter films, decorative films
Flex films
Flock films
Sandblasting foils, masking foils
Double-sided self-adhesive films
Reflective self-adhesive films
Metal effect foils