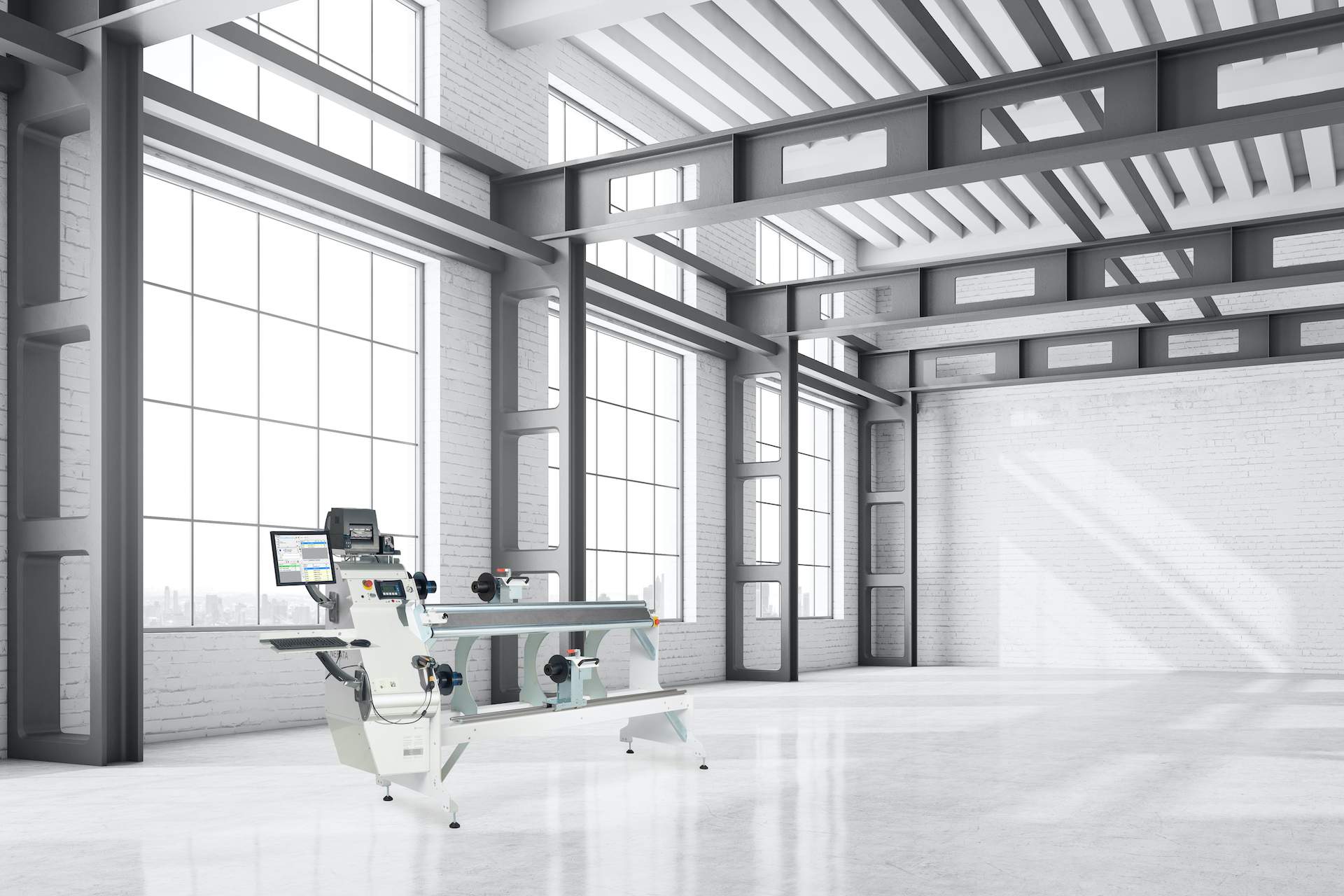 Based on our many years of experience in handling and converting roll media, we offer a wide range of solutions to meet your needs. Whether you need rewinding, cut-to-length or slitting machines, cut-off machines or roll storage systems – we have everything you need to optimize your film logistics.
Our revolutionary roller bearing system, for example. allows you to store your rolls efficiently and safely. Benefit from our know-how and many years of experience in the industry. We will be happy to help you and find the right solution for your requirements. Contact us today!
Conversion centers - all-in-one solution for maximum productivity
The NEPATA converting centers guarantee error-free and accurate rewinding, cutting to length and slitting of roll media at high productivity while avoiding errors and waste. They were able to establish themselves worldwide in the film trade and for film, as well as tape production.
Automation, efficiency and control for your warehouse processes
The Nepata Automated Roll Storage System (ARSS) is designed for roll storage with a total capacity of up to 3,000 rolls. In addition to the software-based optimization of processes, the system is characterized above all by the small footprint required for storing the rolls. In each case, the system is individually adapted to the customer's requirements in terms of dimensions (footprint, height), total capacity and number of transfer stations.
High precision cut-off & parting machines
The Nepata cut-off machines and cutters provide a highly accurate and efficient solution for cutting roll media to length.
NEPATA GmbH has developed a range of rewinding, cut-to-length and slitting machines to dramatically increase productivity in converting processes involving adhesive films, digital print media and flex and flock films, and to minimize waste and scrap. All machines are characterized by high precision, productivity and user-friendly control.
Nepata wrapping machines - precise classics
Nepata's rewinders offer a wide range of options for efficient and precise processing of roll media. They are conveniently operated via touchscreens and can be controlled via ConvertPlus2 software to manage all conversion processes without errors.
Optimize further and further with accessories
In addition to excellent basic equipment, it is also possible at any time to adapt Nepata machines even better to the respective needs and workflows with suitable accessories! From lubrication systems, telescopic levers to tape dispensers – stop by our accessories!
From the Hallertau to the world! Not only the hops, but also our products are used worldwide. It is always nice to see that our products are appreciated worldwide.
Josef Geier (Head of Production & Resource Planning)
Machine, software and service from a single source
Benefit from our services now
Installation & Commissioning
Installation & Commissioning
Delivery & Installation
Connection of PC & additional components
Software installation
Complete adjustment
Maintenance & Repair
Maintenance & repair on site
Replacement of parts if required
Complete inspection of the machine
Firmware update if required
Checking the safety-relevant components
Training of the employees
Training of the employees
Intensive on-site training

Training of all operating modes & troubleshooting.

Handling ConvertPlus2 Software

Process consulting & modeling if required
Technical training
Briefing on technical details
Explanation structure mechanics & electronics
Handling error scenarios
Disassembly & assembly of individual assemblies
Instruction in maintenance activities
Service case
Case with mechanics & electronics spare parts
Special tools for self repair
Storage at customer site
Refilling after spare parts removal
Process Consulting Digitalization
Process Consulting Digitalization
Process modeling for film logistics
Ideal integration of ConvertPlus2 with ERP systems & workflows