For every material we have the solution
We are ready for any material: whether nonwovens, protective films, marking strips, PTFE-coated glass fabric, adhesive films or high-performance adhesive tapes – our innovative cut-off solutions offer you precise cutting, high efficiency and consistent quality. Learn more in our application examples!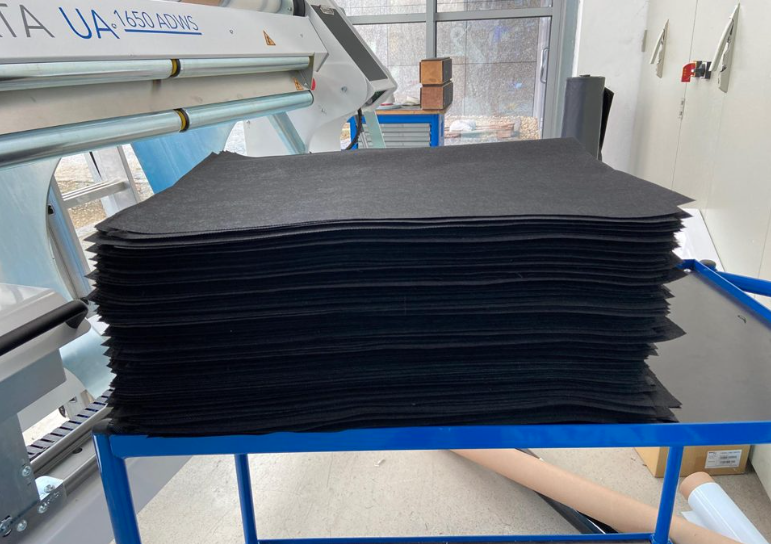 Fleece – popular all-rounder
Nonwovens are used not only for the production of masks, but also for various other applications such as medical dressings, hygiene products, upholstery materials, cleaning cloths and much more. Due to the versatility and wide range of applications of nonwovens, precise processing is essential.
Nepata machines can wind, cut to length and slit nonwovens of various widths. Our machines are characterized by high precision, speed and efficiency. They allow for a uniform cut and clean edges to ensure high quality end products.
In addition, Nepata machines enable fast order processing and flexible customization. They can process small and large batches equally efficiently and respond quickly to changing requirements.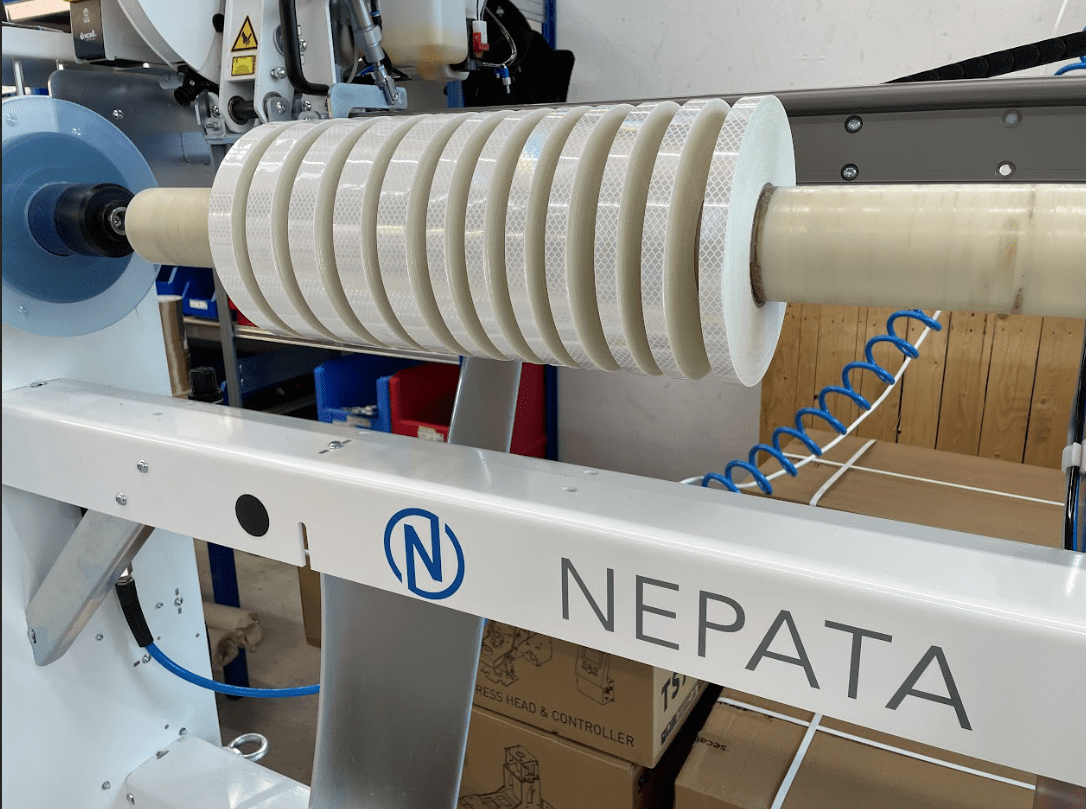 Reflective film poses a particular challenge for converting machines. Due to the glass beads that create the reflection, it is a very hard and tough material that causes high wear on the blades. In addition, reflective films, such as those used for marking trucks, are very expensive and require high precision cutting. With over 99.9% accuracy, Nepata's solutions ensure less waste and lower costs.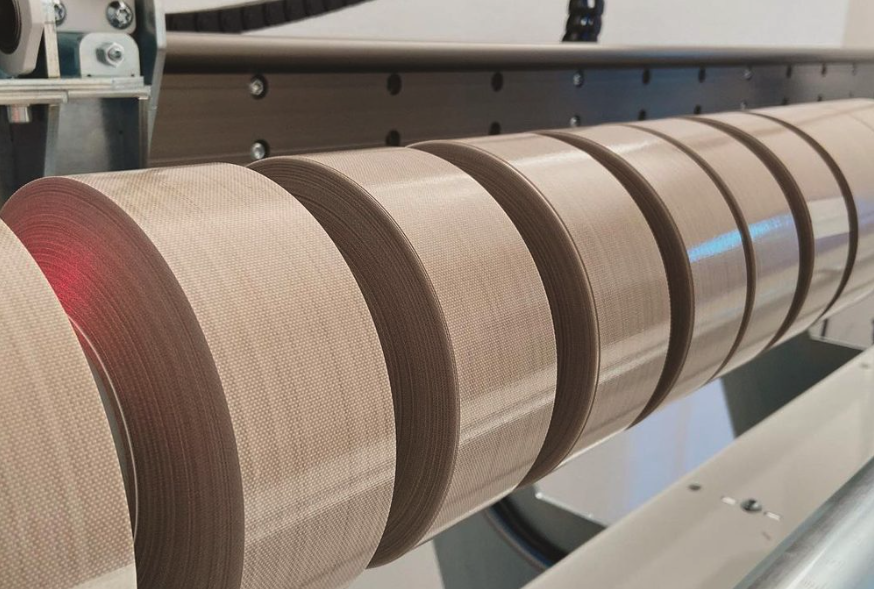 PTFE-coated glass fabric can also be easily cut and wound with the Nepata machines. This stable material is often used for fabrics and membranes because it is particularly resistant. Internally, cut-off tests have already been carried out with material from Forflon, including a self-adhesive glass fabric.
Our Nepata 1900 ADWS cut-off machine proves to be the perfect choice for such demanding cases. With the special 5 mm bevel ground blade and our unique jaw lubrication system for the cut-off head, precise and clean cuts can be achieved. The lubrication system specifically wets the blade with silicone oil to ensure smooth operation and best results. Cuts are clean and precise, with no damage or fraying.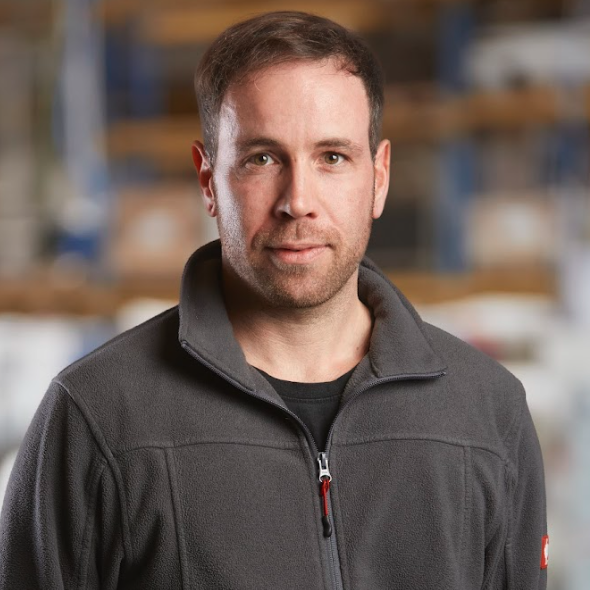 "We are continuously working to develop and improve our products to meet customer needs and gain competitive advantage. The materials and requirements of our customers often differ - through close exchange we can achieve learnings, optimize our products and thus enable our customers to achieve even better results."
Dominik Haas (Technician)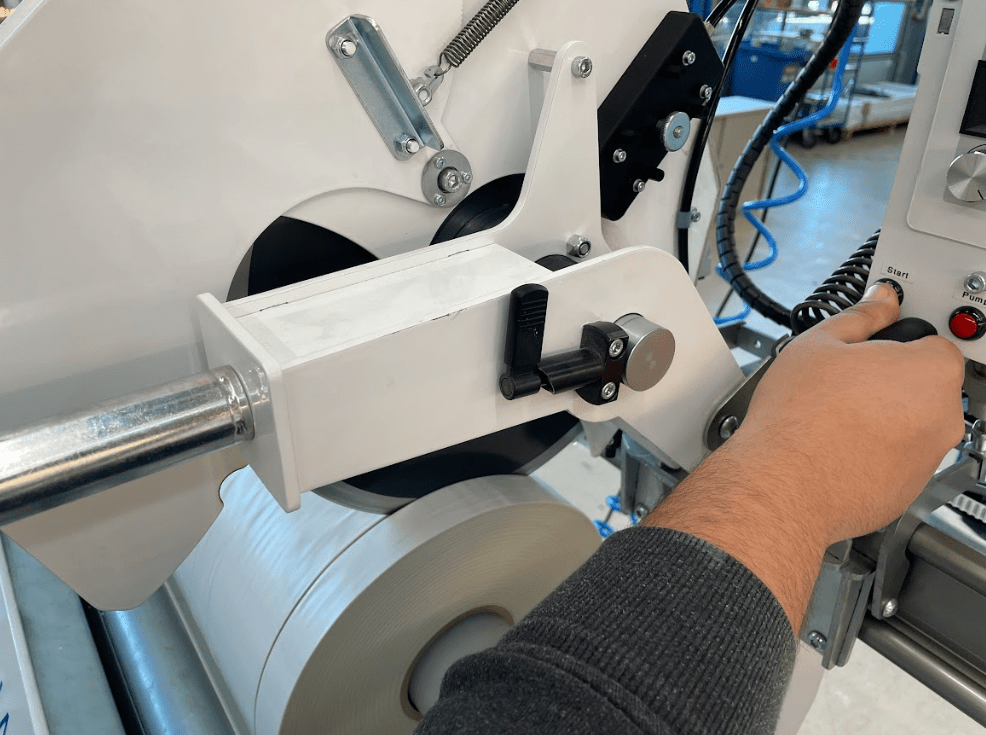 Holds better: double-sided adhesive film
Our cutting and rewinding machines are ideal for the production of all types of adhesive tapes for industry, construction and hobby.
The market for adhesive films and technical tapes is huge and there are literally millions of types. But cutting these materials is often a challenge. This is where Nepata's solutions come in. Our machines are ideally suited and with our sophisticated lubrication system we enable super-precise cuts and fast work.
Customers often require adhesive tapes in specific widths. Since it is advantageous to store only master rolls and these are cut to the desired width only when ordered. This minimizes inventory and increases flexibility and speed in order processing.
Our machines are able not only to produce large quantities efficiently, but also to process small orders quickly. This enables us to meet our customers' requirements in every respect.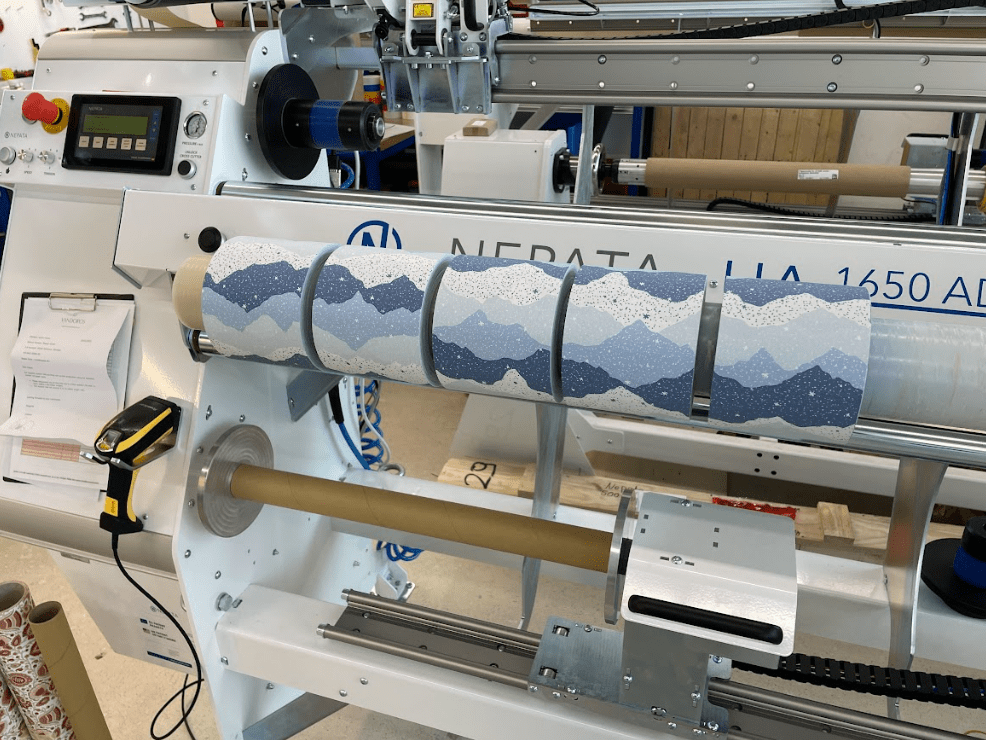 It doesn't always have to be foil: (gift) paper
Did you know that Nepata machines are not only suitable for films? You can also process and cut paper accurately, quickly and efficiently.
Our solutions are ideal for cutting small 3-4 meter long wrapping paper rolls directly from the mother roll. With a capacity of approximately 100 rolls per hour or several hundred rolls per day, Nepata offers optimal processing solutions for your needs. Our machines can convert and cut not only (gift) paper, but also other materials such as sublimation paper.
With the UA 770 coreless wrapping and cutting machine, you can also wrap and cut paper without cores.
We know that not every need is in large industrial quantities. That's why Nepata offers processing solutions that are profitable from just a few thousand rolls per year.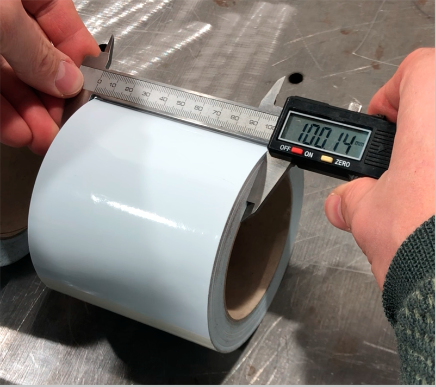 Adhesive foil in stripes – an absolute classic
With the Nepata machines you can process adhesive films without any problems and with consistent quality. For example, the Nepata 1900 ADWS gives you the precision and accuracy you need to produce tapes or narrow rolls.
During internal tests, the machine was tested, for example, with the Ritrama O-series adhesive film and several segments of 100 mm width each were cut. The result was impressive: consistently clean cuts and smooth edges. The deviation was in the range of maximum 0.2 mm for all segments.
The Nepata 1900 ADWS ensures precise and uniform processing of your adhesive films. You can count on consistent quality and high accuracy with every cut. This is critical for optimal performance and aesthetics of your end products.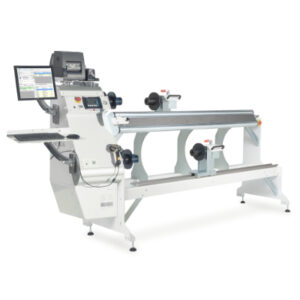 Rewinding, rewinding, unwinding, cutting to length, length measurement, etc. of roll media up to 1850 mm wide
Wrapping speed up to 1.0 m/s
High precision wrapping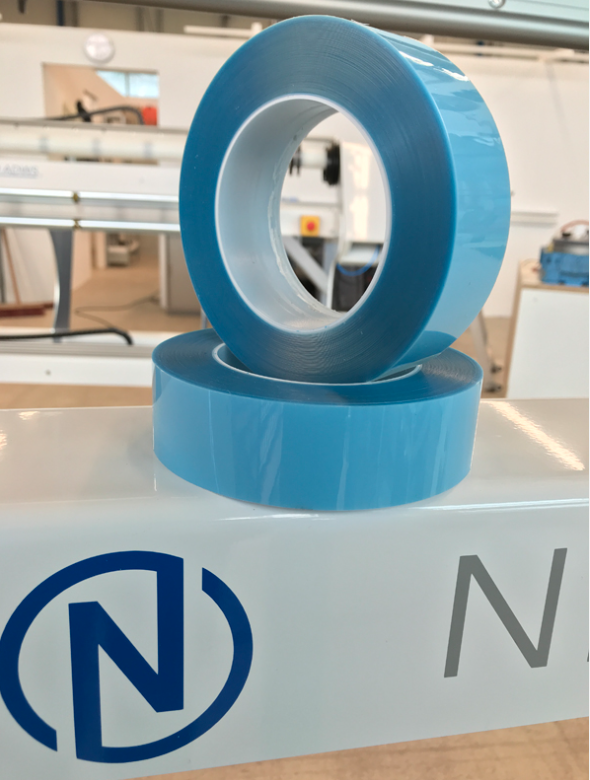 Better safe than sorry: protective films
Protective films for plastic profiles, metal or stone chip protection films can also be efficiently processed with Nepata's machines. The tough material often poses a challenge when cutting, but thanks to our innovative piercing technology, this is easily mastered.
The Nepata machines are equipped with a new type of 5 mm parting-off blade, which has a large-area bevel. This allows the blade to penetrate the material better and enables precise cuts. In addition, the cut-off head features a unique jaw lubrication system that selectively wets, cleans and brakes the blade with silicone oil. This ensures optimal function and durability of the blade.
To ensure exact positioning of the blade on the film surface, a new line laser is integrated into the Nepata machines. This shows the exact position of the knife, so that every cut can be set perfectly.
In addition, the telescopic cut-off lever of the Nepata machines is twice as long as conventional levers. This gives the operator better control over the cut-off process and allows precise and consistent cuts.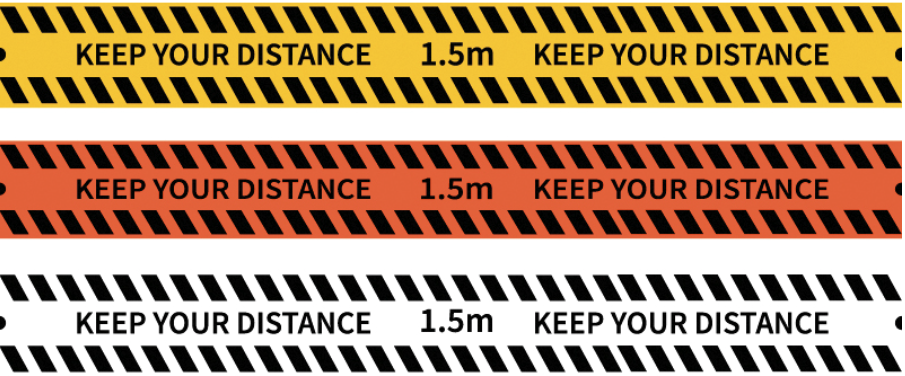 Marking Strips & Barrier Tapes
Our special machines make it possible to cut marking strips and barrier tapes made of adhesive film or reflective film from large rolls, and even unprinted or previously printed PVC film is also no problem. This not only saves you time in production, but also allows you to take advantage of purchasing and logistics benefits.
Our ADWS models clearly stand out from the competition. They are able to achieve excellent results even with difficult materials and narrow tapes.
The new 5-mm cut-off blade with large-area angled grinding enables effortless cutting of narrow tapes and even tough material such as reflector foil or application tape. The unique jaw lubrication system on the cut-off head selectively wets the blade with silicone oil to ensure smooth operation and longevity.
To ensure precise positioning of the blade on the film or paper surface, a line laser is integrated in the Nepata machines. This shows the exact position of the blade so that each cut can be perfectly placed.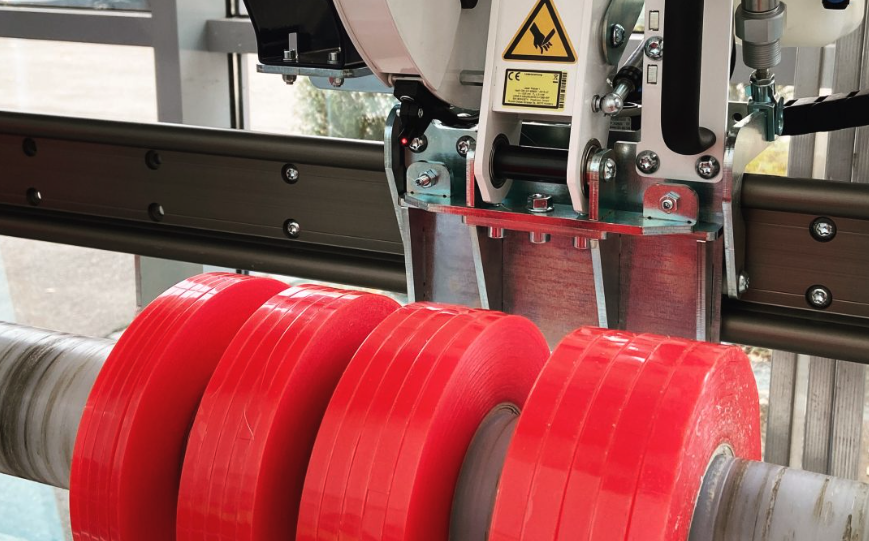 Highest performance even with high-performance adhesive tape
The Nepata cut-off solutions also cope with high-performance adhesive tapes without any problems – this was also demonstrated by a successful internal test with Orabond 1397 from Orafol.
Strips between 5 and 12 mm were produced from a full roll of Orabond 1397PP high-performance adhesive tape. This was done with the help of the UA1650 ADWS precision conversion center. Cutting off works perfectly, but the tape keeps its promise and sticks insanely well! This is where the Nepata lubrication system comes into play, which specifically wets the blade with silicone oil and permanently cleans it.
Another advantage is the Nepata solutions is the wide range of blades for any application and any material. In this case, with the thicker adhesive layer of Orabond 1397, a smaller cut-off blade of 2.0 mm x 240 mm ground on one side performed best.