Enjoy more of our tips for more efficiency in film logistics. In this episode: Strategies to make better use of the capacity of your machines.
By NEPATA CEO Fabian Franke. There is enormous potential in improving the organization of the processe in order to achieve more efficiency and thus profitability in film storage. Having reflected on shorter walkwaysI would like to share a few inspiring observations that I have made on the subject of machine capacities. The goal is of course to avoid idling the machine in order to amortize the investment faster.
1. Distribute machines decentrally
If you use several machines, they don't necessarily need to stand together. It is often better to place them decentrally across individual areas of the warehouse. Individual types or series of films are then arranged around the machines in such a way that the capacity of the respective machine is utilized as much as possible with what is in the immediate vicinity.
2. Implement runners
How do reels get from the storage location to the rewinding machine – and consistently back again? Oftentimes the employee who operates the machine takes care of this task himself. An alternative is the runner system: A dedicated employee brings the films, clears them and takes care of supplies when a roll is empty after having been rewound. The advantage: The machine is capable of full utilization. It is also a great part-time solution for times during which a particularly large number of pending jobs are expected. The automatic roll warehouse that we've developed takes this one step further in that robots provide the rolls.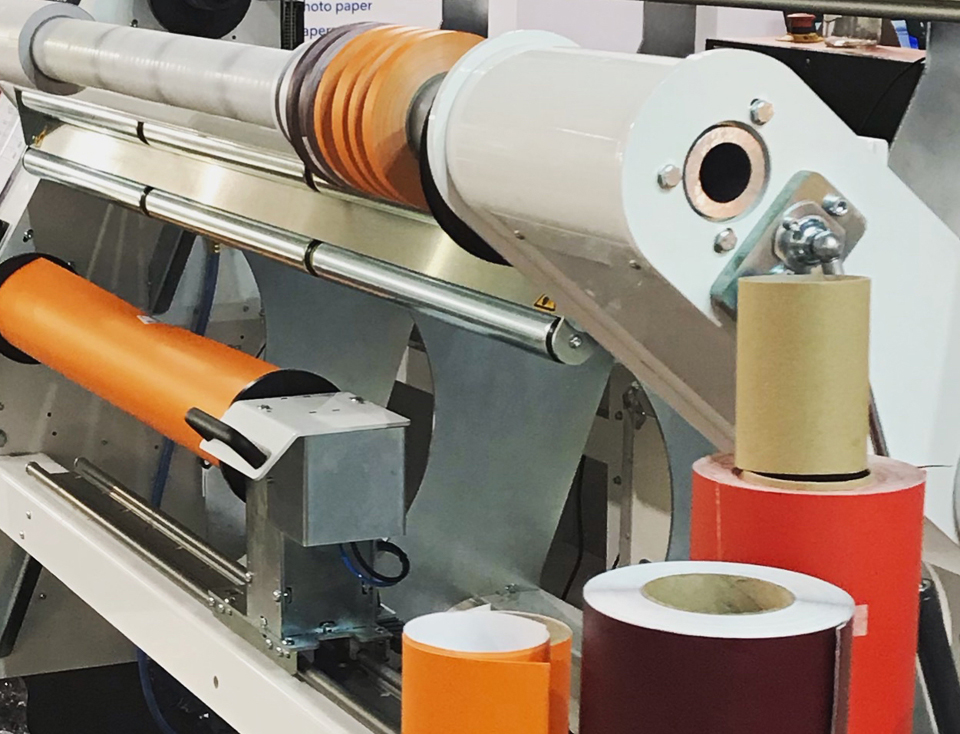 3. Determine the "right" level of order
Trivial, yet not always the default: Pay attention to order in the area of the machine park. Do the remaining rolls accumulate around the machines over the course of a day? It then becomes more and more difficult to move around in the area at all and, what is even more fatal, it is hardly possible to find or access the individual rolls from among the rest of them. The disposal of cores remains and outer packaging also requires a good solution. The waste mustn't block the working radius of the machine. We see very good systems all over the world, but some companies can certainly improve them. We also see the full range of solutions for the storage of the films themselves: This ranges from rolls that are impaled on cantilever shelves, to "the film is placed back into the plastic cover, put into the box, placed on the shelf". Here one must consider: How much non-productive time, which does not directly add value, do these processes for packaging and possibly labeling entail. The objective must be for both the film and the personnel to return to the machine more quickly. Receive individual advice We can help you optimize your film logistics. Our film logistics and digitization consulting is absolutely practice-oriented and independent of whether you use NEPATA machines. For more information on "Film Logistics Consulting", click here
More tips in this video …
https://www.youtube.com/watch?v=haY0OTJrPsw
Series "Strategies for optimizing your film logistics"