In this article, we have introduced an automatic storage system with vertical robot for the first time. Here are more insights … To automate the pick-up and delivery process, NEPATA has developed various automatic storage systems for roll media. New is a vertical bearing, it is designed for about 400 to 1.250 rolls.
First customer project in planning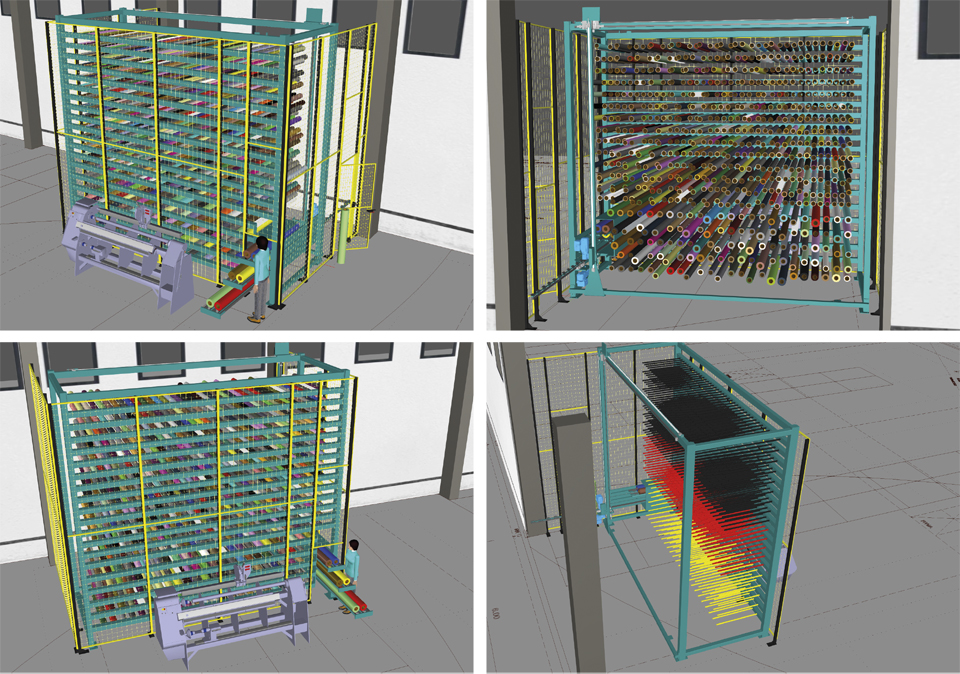 The first customer project is currently being planned. The basis is a steel shelf structure with horizontal spikes on which hang the rollers. A vertical 3-axis robot moves to each of the rolls required for a job. Using a tray gripper, he lifts the roll from the mandrel and places it in a free transfer station directly next to the rewinding machine. The supplied software is fully integrated into the proven NEPATA ConvertPlus control software or, if desired, can be directly linked to the existing ERP system. In addition to the optimization of processes through software and automation, the system is characterized above all by the fact that the rolls are stored in a much more space-saving manner than in shelving racks.
The advantages
Elimination of pick-up and delivery paths for manual roller bearings
Very compact storage of rolls in a small footprint
Chaotic storage location selection according to the fast-moving item principle
High capacity for automatic storage and retrieval of rolls
The creation of new roles is controlled by software and can be decoupled from day-to-day business.
Size and capacity of the entire system freely selectable
Gentle material handling even without carton
High safety standard
Facilitation of gripping and lifting operations for employees in the warehouse
Full control over stock and storage locations in real time, no more rolls in the wrong storage locations, etc.
Optimization with regard to residual formation and avoidance of overaged rolls
Individual planning according to your requirements and conditions on site
Does that sound interesting to you? More details gladly in a phone call. I want to learn more